Maximize Your Savings - Travel & Hotel Program
Save up to 50% or more with our Super Travel Rewards Program! You can save money with big discounts from names like Southwest, Delta, United and American Airlines, as well as Hertz, National and Avis car rentals. Earn points from hotels like Super 8, Best Western and more. It doesn't stop there. We will help you search resorts to find the best deals at top destinations world wide! If you have to spend money for business travel or just want to see your vacation dollars go further, Coupon Warehouse is here to provide you the lowest airfare and hotel prices - Guaranteed!



1. The Travel & Hotels Benefit works in much the same way as Dining. By clicking the "Local" button, you will be directed to a page that will allow you to search our database for Travel & Hotels offers.
2. You have a map of the United States and a "Search for travel discounts" area. To search for discount offers, enter your City, State or Zip Code. Entering your Zip Code is the preferable method. You can use the "Find deals within" field to narrow or broaden your search area. If you live in a large metropolitan area, this tool can come in handy.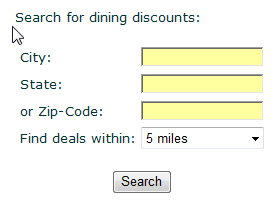 3. After you have entered the Zip Code where you would like find offers, simply click the "Search" button. The offers within the Zip Code you entered will then be displayed below in alphabetical order. Note that in addition to the offers located within the Zip Code you entered, if any are currently available, you will also see offers from Nationwide chains. These offers are not geo-specific and can be used anywhere in the United States where the offer is valid!
4. Now that you've searched and found a offer you like, click the offer in blue text. This will open a new page where you will print the coupon. Simply click the blue "Preview Coupon" button and the offer will display on your screen. You can review the offer once again and if you are certain you want to print it, just click the blue "Print Coupon" button and a window will open for you to select the printer you want to use. That's it. Print the coupon and take it to the merchant to redeem!



Clicking the "National" button will direct you to our travel partner's benefit page. Since there are many offers that are not an online, printable coupon, we have created this search engine.
1. On the Travel & Hotels benefit landing page, click the "National" button. This will take you to the page where you will see a list of travel related categories. Click on the selection that best suits what you are looking for. For airline tickets, click the "Flights" button. For hotel accommodations, click the "Hotels" button.



Clicking the "Condos" button will take you to our Condominium benefit page. Here you will find the world's largest vacation exchange network and other deals among the world's largest global marketers of vacation rental properties. We service more than 4 million vacationing families each year by offering Group RCI members and rental customers access to more than 200,000 properties in 100+ countries for specified vacation periods.

We Make Planning Easy!


All it takes is a few simple steps to plan your next getaway:

1. Browse over 200,000 vacations rentals worldwide.
2. Select a specific property.
3. Book your vacation online, or simply call our customer service center
4. Receive your online confirmation, and start packing for your vacation!