Maximize Your Savings - The Shopping Program
Once you become an Coupon Warehouse member, you can earn up to 30% in Cash Back Rebates on a monthly basis! Shop online at over 1,500 National Retail Stores such as Wal-Mart, Target, Marshalls, American Eagle, Kohls and many, many more! In addition, save locally when you shop at retailers in your area by printing coupons right from you own printer! Save money when you shop at Dicks Sporting Goods, Blockbuster, Gamestop, GNC, Midas, Target and Zales.



1. The first thing to do is log in to our website. Once logged in, click on the "Shopping" benefit located at the bottom of the home page.
2. Now that you have clicked the "Shopping" button, you are taken to the Shopping Benefit landing page. You have two options here, Local and National. Let's start by clicking on the "Local" button.
3. You are now ready to search for coupons. Enter your zip code in the box labeled "Zip Code" and click the Search button.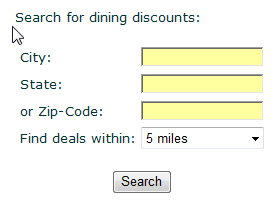 3. The coupon offers within the Zip Code you entered will now be displayed below in alphabetical order. Note that in addition to the coupon offers located within the Zip Code you entered, you will also see coupons offers from other Nationwide chains. These coupons are not geo-specific and can be used anywhere the restaurant has a location!
4. Now that you've searched and found a coupon offer you like, click the offer in blue text. This will open a new page where you will print the coupon from. Simply click the blue "Preview Coupon" button and the offer will display on your screen. You can review the offer once again and if you are certain you want to print it, just click the blue "Print Coupon" button and a window will open for you to select the printer you want to use. That's it.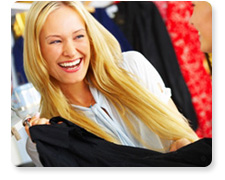 The Coupon Warehouse Shopping benefit is in a class by itself! As a registered member, you will have access to the Coupon Warehouse Shopping Mall. It's where you can get Cash Back every time you shop. You don't have to change brands or stores. Simply buy the same things you're going to buy anyway, from any one of almost 1,500 of America's favorite merchants, and get paid for doing so. Each time you make a purchase you can save up to 30% off in-store prices, plus you'll receive up to 20% of the purchase price in Cash Back!
Step One - Select a category to the right and check out the Cash Back percentage that's displayed next to each merchant's name.

Step Two - Click on a merchant's graphic and make a purchase. Your Cash Back will be equal to the Cash Back percentage of your purchase price.

Example:
Make a $100 purchase from a merchant with a 10% Cash Back percentage and receive $10 Cash Back ($100 x 10% = $10)!

To see how big your monthly Cash Back check is login to your private back office and click on My Cash Back.