Maximize Your Savings - The Dining Program
Once you have successfully logged in to Coupon Warehouse, click the "Dining" button located near the bottom of page within the benefits "Navigation" bar. This will take you to the Dining benefit's landing page. From here you have three options; you can click the "Local" button, the "National" button or the "Restaurant.com" button. The reason you have multiple options here is so that we can provide you with the greatest number of restaurant discounts possible. The Local "Dining" benefit is for our members who want instant gratification! You can search for restaurant coupons, find one you like, and print them out on the fly. The "National" benefit is a great option too. We keep lots of your favorite nationwide restaurant coupons, cut from newspaper circulars, flyers and the like, in our warehouse and ready to send to you at your request. Restaurant.com offers you great, money-saving gift certificates that you can print and use whenever you feel like it. We'll explain more about that later. Let's get started with the "Local" button now.

1. By clicking the "Local" button, you will be directed to a page that will allow you to search our database for restaurant coupons.
2. On this page you will have a map of the United States and a "Search for dining discounts" area. To search for discount offers, enter your City, State or Zip Code. Entering your Zip Code is the preferable method. You can use the "Find deals within" field to narrow or broaden your search area. If you live in a large metropolitan area, this tool can come in handy.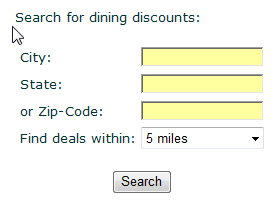 3. After you have entered the Zip Code where you would like find coupons, simply click the "Search" button. The coupon offers within the Zip Code you entered will then be displayed below in alphabetical order. Note that in addition to the coupon offers located within the Zip Code you entered, you will also see coupons offers from other Nationwide chains. These coupons are not geo-specific and can be used anywhere the restaurant has a location!
4. Now that you've searched and found a coupon offer you like, click the offer in blue text. This will open a new page where you will print the coupon from. Simply click the blue "Preview Coupon" button and the offer will display on your screen. You can review the offer once again and if you are certain you want to print it, just click the blue "Print Coupon" button and a window will open for you to select the printer you want to use. That's it. Print the coupon, take it to the restaurant and redeem!



Clicking the "National" button will direct you to our mail-in coupon benefit page. Since there are many restaurants which do not always offer an online, printable coupon, we have created this page to help you get the coupons you're looking for. As mentioned above, we keep lots of your favorite nationwide restaurant coupons, cut from newspaper circulars, flyers and the like, in our warehouse and ready to send to you at your request. Please keep in mind that most restaurants do not have a coupon available all the time. This is why we have you to select 5 coupons from each row. We have devised a mathematical formula that assures us we can always fill our member's order. Here's how it works.
1. On the "Dining" benefit's landing page, click the "National" button. This will take you to the page where you will see a list of nationwide restaurants. There are 4 columns with 20 restaurants in each. Review the list and decide what restaurants you would like to receive coupons from.

2. To select the restaurants you would like to receive coupons from, simply click the restaurant logo and it will be highlighted in yellow. You must select 5 restaurants from each column for a total of 20. If you change your mind about a restaurant you have already highlighted, no problem. Just click it again and the highlight will be removed.
3. Once you have made 5 selections from each row, click the "Print Now" button located below the list of restaurants. Mail your printed selections along with a self-addressed stamped envelope to the address listed. We will then send you $10.00 in FREE coupons from your selections, plus additional coupons to offset the postage on your envelope. Note: We strive to mail your order back out the same day we receive it. If received over the weekend, your order will be mailed on the next business day.


Whether you're passionate about trying new restaurants or just need a night away from the kitchen, it's a wonderful and accessible reward. You enjoy great food, ambiance and conversation with friends and family and no kitchen or dishes to clean up. Today, there are so many new places to try, new cuisines to sample – more great dining options now than ever before. Well, we're here to help you indulge.

How it works

It's so easy. Just use the "search" to find a restaurant. Simply enter your zip code and follow the directions. Many of the participating restaurants have different offers, so pick the place that suits you best. Restaurant.com provides handy descriptions and even menus to help you decide. Follow the instructions for purchasing a gift certificate and print it out. In minutes you're all set for a night out for less!

Check out the testimonials page if you're interested in what others have to say.